AIAA OC Rocketry is part of the educational outreach program of the AIAA OC Section. We hope you enjoy this newsletter - you will receive this email once each month, or more frequently if warranted (you can unsubscribe using the link at the bottom).
Team America Rocketry Challenge

The AIAA OC Section now has four, possibly five TARC teams. But we are still looking for a few good Rocket Scientists in 7th through 12th grade to fill open positions on those teams. Team America Rocketry Challenge (TARC) is a national contest for students to design, build, and fly a rocket to meet a particular challenge. Up to 1000 teams enter; the top 100 teams travel to Washington DC for a fly-off May 2013. The top 25 teams from the fly-off can participate in the NASA Student Launch Initiative program. AIAA OC Section can have up to five teams of 3 to 10 members each. Contact us to start your own team or join an existing team (rkoepke@socal.rr.com). Sign ups began 9/4/2012 and will end 11/30/2012. The rocket this year must:
Attain an altitde of 750 feet exactly
Have a flying time of 48 to 50 seconds (pad to return)
Carry one raw hen's egg on it side and return unbroken
Weigh 650 grams or less
Use an "F" motor or smaller (80 Newton-seconds or less)
Payload must return on a 15 inch parachute
Full details can be found on the TARC website. AIAA OC Section helps up to five teams "sponsored" by our section with the entry fee, providing some materials, and a loaner altimeter and motor casing for the 2013 competition year, and of course,as much mentoring as your team needs to be successful.

Web page with PowerPoint & Videos from our first TARC meeting
Download or view the 2013 Rules here
Download or view the 2013 Handbook here
More on Curiosity...
Old Streambed on Mars
From: NASA Science News email for September 27, 2012
Curiosity has found evidence that a stream once ran vigorously across the area on Mars where the rover is now driving.
Link to Full Story

Why Curiosity Matters
From: NASA Science News email for September 20, 2012:
A former rock-n-roller turned NASA engineer explains why he thinks Curiosity--both the Mars rover and the human desire to learn new things--matters to ordinary people on Earth.
Link to Full Story
---
Endeavour arrives in Los Angeles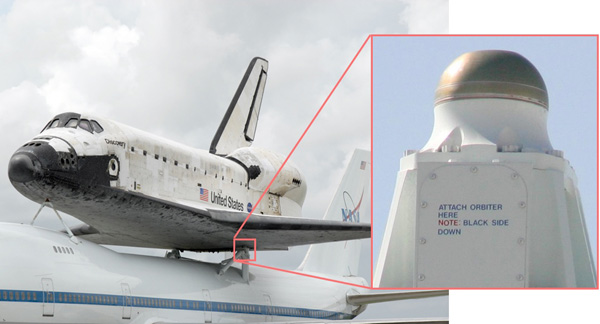 Photo above is of Discovery showing NASA's Humor (Click for story)

After 25 missions and 123 million miles in space, Endeavour returned to its home in California with a hero's welcome. Endeavour will be on display at the California Science Center in Los Angeles beginning the end of October.
Boeng story and Video on the return of Endeavour to California
NASA Web Page on Space Shuttle Endeavour
Endeavour Fact Sheet
Endeavour's Missions at-a-glance
First mission STS-49 Press Kit .txt
Last mission STS-134 Press Kit .pdf
Link to time-lapse Video of removal from 747
Interactive view of Endeavour's flight deck
---
Weird Planets
From: NASA Science News September 6, 2012
Once, astronomers thought planets couldn't form around binary
stars. Now Kepler has found a whole system of planets orbiting a
double star. This finding shows that planetary systems are weirder
and more abundant than previously thought.
---
The Sound of Earthsong
From: NASA Science News for September 27, 2012
A NASA spacecraft has recorded eerie-sounding radio emissions coming from our own planet. These beautiful "songs of Earth" could, ironically, be responsible for the proliferation of deadly electrons in the Van Allen Belts.
---
Educators - NASA Education Express
NASA provides many opportunities for the education community through the NASA Education Express. You can subscribe to a weekly email listing the opportuties. For example, this month:
- Free webinar series from the Aerospace Education Service Project
- Educator Conference: "Curiosity has landed in your classroom"
- Live Video Chat with Bob Cabana: Life as an Astronaut
Link to the NASA Education Express web page
---
Amateur Rockets Exceeds 100,000 ft Altitude
The AeroPac 2012 rocket made a successful flight to 104,659' AGL on Tuesday 9/11/2012 claiming the "Carmack Prize" for the first rocket to exceed 100,000 ft altitude. It was a two stage flight with fully commercial certified motors - an AeroTech N1000 staging to an AeroTech M685
Link to Video
---
AIAA OC Rocketry Since Last Newsletter
9/8/2012 - Launch at Lucerne Dry Lake with the ROC club
9/10/2012 - Rocket Club meeting with presentation on rocketry electronics (altimeters, trackers, GPS, video)
9/16/2012 - Launch at Santa Fe Dam Recreation Area with the SCRA club
9/23/2012 - TARC introductory and kick-off meeting - link to the PowerPoint slide show and videos is at the bottom of this page
9/29/2012 - Merit Badge build with Boy Scout Troop #36
CLUB WEBSITE
---
Newsletter Archive
September 2, 2012
List & newsletter sign-up
---
NEXT MEETINGS
October 1, 2012 at 7PM at the Koepke's. There will be a short presentation on motors and ignitors
November 5, 2012 at 7PM at the Koepke's
---
NEXT LAUNCHES
October 13-14, 2012 ROCtober at Lucerne Dry Lake (Link to ROCtober). We will be camping Friday - Sunday Noon
---
NEXT OUTREACH
October 6, 2012 Build with the LA County Girl Scouts in Long Beach (Launch at ROCtober)
---
TARC 2013
We have had our first TARC kick-off meeting and have four, possibly five teams. There is plenty of room if you are in 7th-12h grade and would like to join a team!
---
CURIOSITY UPDATE
Curiosity sends home special messages before heading onto the Martian plain towards her first target
September 6 Video Update
September 13 Video Update
September 20 Video Update
September 28 Video Update